Hidden in the Andean mountains, yet in close proximity to Lima (Peru) and only 30km's from the 2.15Bt Cu-Mo-Ag Toromocho porphyry mine, Inca's Chanape Project is emerging as an exceptional porphyry prospect. With the most recent drill hole (CH-DDH012) producing 55m* of 2.3% Cu, 0.6g/t Au, 42.9g/t Ag; the second-but-last hole (CH-DDH011) producing 284m at 0.32% Cu, 83ppm Mo and 6.73g/t Ag; with known mineralisation extending over a vertical distance of 1.3km; and with major mining houses showing intense interest, perhaps use of the oft bromide idiom "world-class" is not without foundation when describing Inca's Chanape porphyry discovery.
(Note: Copper -Cu, Molybdenum -Mo, Silver - Ag, Gold - Au).
The latest drill hole (CH-DDH012) completed at Chanape produced our best intersection to date:
55m

@ 2.3% Cu, 0.60g/t Au, 42.9og/t Ag, from

155m

, including:

10m

@ 5.35% Cu, 0.015% Mo, 0.96g/t Au and 83.68g/t Ag from

186m

, including:

4m

@ 8.9% Cu, 0.025% Mo, 1.14g/t Au and 130.50g/t Ag from

188m

.
The same hole also intersected:
67m

@ 0.97g/t Au, 25.30g/t Ag from surface, with an overlapping interval of:

24m

@ 0.52% Cu from

50m

.
Add these results to the results of Ch-DDH011 (300m to the south):
284m

@ 0.32% Cu,

83ppm

Mo and 6.73g/t Ag, including:

97m

@ 0.46% Cu,

106ppm

Mo, 9.4g/t Ag from

770m

30m

@ 0.93% Cu, 18.72g/t Ag from

886m

24m

@ 0.37% Cu, 6.5g/t Ag from

970m

26m

@ 0.50% Cu, 10.88g/t Ag from 1,

021m

(open at depth)
....and a clear indication is given: The porphyry at Chanape is in deed metal-bearing and it is producing ore-grade intersections even at this early stage of development. Chanape has huge upside potential with only a fraction drill tested. In this context, a suitable comparison to Toromocho is made. The 2.15Bt, Chinalco-owned Toromocho porphyry is mineralised in Cu-Mo-Ag - like Chanape. Toromocho is set to produce 300,000 tonnes of Cu-metal per year for 30 years.
In recent mapping we have discovered the largest breccia pipe to date on the property. Roughly 200m x 200m, this breccia pipe, and other newly discovered breccia's around it, sits at the top of Mount Chanape. With intrusive rocks also identified in the vicinity, extensive phyllic and argillic alteration, with known strong gold mineralisation in the area and a strong chargeability anomaly, this hitherto untested area could well prove to host something quite special.
The future looks fine for Inca. We are attracting the attention of major mining houses, we are expanding our drill permit capacity to 22,500m and 61 platforms and we are maturing our less-talked about, Peruvian projects as candidates for the next "Chanape".
It is our sincere intention to maximise shareholder value through the development of Chanape; through the generation of possible strategic partnerships and through the identification of next-gen projects with similar potential.
*All intervals are down-hole measurements.
The summit of Mount Chanape where large breccias have recently been identified. The higher colouration reflects widespread alteration.
INCA'S PURPOSE
It is the intention of the Company to develop its Chanape Cu-Mo-Ag-Au Porphyry Project into a maiden resource within a short time frame and achieve feasibility status within a five-seven year time frame. In the pursuit of this objective, the Company seeks to maximise shareholder value by adhering to its foundation principles of best-practise exploration and mining performance, optimal environmental management and community upliftment.
INCA'S PROJECTS
Inca's exploration focus is on the discovery and delineation of economically important porphyry deposits in Peru. The Company's flagship,
Chanape
Porphyry Project, just a 5 hour drive from Lima, is an outstanding exploration project, a potential world class porphyry deposit, which may well deliver the Company a maiden resource and significant shareholder wealth.
Chanape
, has now produced headline intersections and it is attracted the attention of some of the largest mining houses around. It is a valid value proposition that the Company is considering: A fast-track to possible resource definition.
The regional
Moquegua
Project, in southern Peru, adjacent to
Metminco's
Los
Calatos
, provides the Company further exceptional exploration development potential. Is the next
"Chanape"
; the next porphyry discovery; among these fledgling projects? Quite possibly –
Moquegua
is surrounded by Cu-Mo porphyry mines and discoveries are being made in this area.
The Company has retained the best of the pre-merger "Condor Minerals" projects as well. The Company's Dingo Range Nickel Project is adjacent to the
Rox
Resources' Mt Fisher East Ni Project and immediately north and south of Cullen's
Wonganoo
Ni Project. Recent work has identified solid Ni targets associated with tightly folded
ultramafic
units. These targets (Jackal and Dingo) be examined by the Company with great interest.
CHANAPE
Chanape
has entered the annals of Peruvian porphyry exploration history, rightly taking its place on a list of remarkable mineral occurrences in this remarkable country. It is now established that a Cu-Mo-Ag-Au porphyry system exists in
Chanape
- it is also fair to say that, through the latest drilling results, it is of economic interest. The very latest hole producing
55m
@ 2.3Cu, 0.60g/t Au, 42.9g/t Ag with zones of up to 0.025% Mo. The second-but-last hole produced an intersection of
284m
at 0.32% Cu with Mo and Ag again.
We have not defined the limits of this porphyry system in drilling to date, but its potential size is tangible. From
mineralised
breccias
at the summit to
mineralised
qtz-porphyry
in drilling (which is open at depth)
mineralisation
at
Chanape
is spread over the vertical distance of 1.3km. With a cluster of newly discovered
breccia
pipes and further intrusive bodies being identified in the summit area, with untested strong geophysics anomalies in the southern half of the project, the impression is that we've just scratched the surface.
The above figure is a schematic NS geological cross-section of Chanape showing the juxtaposition of the Au-Ag-bearing breccias and the Cu-Mo-Ag-bearing porphyry. The enclosing "sulphide envelope" within which it is hoped an economic section of the porphyry exists, is believed to be responsible for the distinctive SP anomaly that occurs at Chanape. The SP anomaly (with at least 4 anomaly centres) is believed to represent high-sulphide (pyrite-rich) shoulders of the porphyry.

Drilling CH-DDH001 at Chanape
Chanape
ticks all the boxes with regard to developing a porphyry deposit. There is a remarkable coincidence of geological, geophysical and geochemical features that are highly characteristic of a
mineralised
porphyry deposit.
Such coincident features include:
A

mineralised

monzodiorite-monzonite-qtz-monzonite

porphyry "telescoped" sequence intersected in all deep drill holes;
Potential ore-grade Au-Ag

mineralisation

at surface (

eg

:

108m

@ 2.0g/t Au with Ag and Cu)
Potential ore-grade Cu-Mo-Au-Ag

mineralisation

close to surface (

eg

:

55m

@ 2.3% Cu with Au, Ag & Mo)
Potential ore-grade Cu-Mo-Ag

mineralisation

below (

eg

:

284m

@ 0.32% Cu with Mo & Ag)
A

breccia

cluster covering an area 2.5kms x

1km

, comprising at least 70

breccia

bodies;
Multiple porphyry intrusions;
A large Spontaneous Potential (

"SP"

) anomaly;
Multiple

Chargeability

anomalies;
A ring magnetic high anomaly;
Widespread

propylitic

and

argillic

alteration, mapped at surface and logged through drill core;
Widespread gold, silver, copper

mineralisation

, including pervasive disseminated and high grade styles of

mineralisation

, assayed in drill core rock-chip sampling.
It is extremely rare that so many different exploration methods have produced results in a single area that so clearly points to a particular style of
mineralisation
being present. To date, there's not a single piece of the exploration jigsaw that doesn't indicate the presence of a large porphyry system.
MOQUEGUA
The Company has four projects in the south of Peru. They are all prospective for Cu-Mo porphyry mineralisation. They are all located within 50kms and surrounded by five world-class Cu-Mo porphyry mines/developments, including Cerro Verde and Los Calatos.
PERU
The majority of the Company's projects, including its flagship Chanape Cu-Mo-Ag-Au Project, are located in Peru, a country described as one of the premier mining and exploration destinations in the world. Peru hosts many world-class mines and developing mineral deposits, and attracts one fifth of the world's exploration expenditure.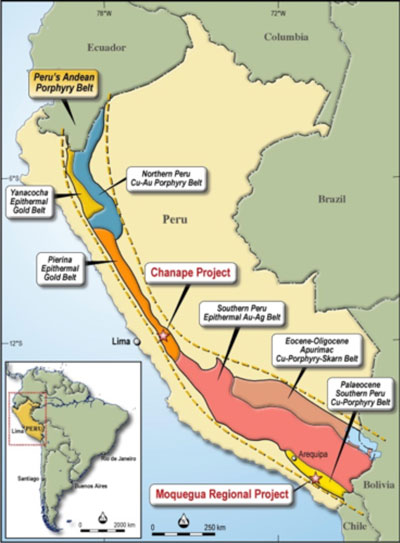 Peru's porphyry belt
PORPHYRY DEPOSITS
Porphyry deposits are the world's most important source of copper, molybdenum and rare earth elements, accounting for 60% of the world's supply of copper, and they are playing an increasingly important role in global gold production. Some of the largest mines in the world are porphyry deposits, including headline deposits:
The

Escondida

Cu porphyry mine in Chile, which is currently the largest copper mine in the world in terms of annual copper production;
The

Grasberg

Au porphyry mine in Indonesia, which is currently the largest gold mine in the world in terms of annual gold production; and
The

Oyuu

Tolgoi

Cu-Au porphyry deposit in Mongolia, which is currently the largest undeveloped Cu-Au deposit in the world, containing approximately 81 billion pounds of copper and 46 million ounces of gold in measured, indicated and inferred resources.
THE VALUE OF PORPHYRY DEPOSITS
Porphyry deposits can and do contain tremendous amounts of metal. Although they are typically low grade (<1% Cu, <1g/t Au) their size, not unusually >1 billion tonnes, ensures a huge metal payload. The contained value of porphyries is astonishing, the "price tag for porphyries in development counted in the hundreds of millions of dollars.
Some examples of recent porphyry transactions:
June 2014: First Quantum buys

Lumina

Copper for US$

470M

who owns 100% of the

Taca

Taca

Cu-Au-Mo porphyry: 2.165Bt @ 0.44% Cu, 0.08g/t Au, 0.013% Mo ARGENTINA
April 2014: China

Minemetals

Corp. buys Las

Bambas

Cu-Mo-Ag-Au porphyry: 1.2Bt @ 0.66% Cu, 0.017% Mo, 3.3g/t Ag, 0.05g/t Au for US$5.85B PERU
2010:

Barrick

buys 25% of Cerro

Casale

Cu-Au-Ag porphyry: 1.8Bt @ 0.21% Cu, 0.5g/t Au, 1.4g/t Ag for US$

474M

CHILE
Are porphyries worth finding? Yes. Has Inca found one? Yes.
INCA'S PEOPLE
Inca has built a passionate team of Perth and Peru based professionals. Our Peru-based team comprises leaders in geological interpretation, exploration planning and execution, social, community and environmental management. Our Perth-based management adhere to the highest standard of corporate governance and compliancy regulations.
INCA'S PERFORMANCE
In a crowded junior resource sector, Inca discerns itself by its projects, people and performance. The port-folio of projects, described above, is a result of applying rigorous project selection criteria in Peru, at the time when the Company enjoyed first-mover advantage. Inca's people, including the Board, management and consultants are all highly motivated to deliver positive outcomes. With respect to performance, it is the Board and Management's explicit desire to instill and promote an ethos of "highest possible performance" - in all Company activities applicable to its own staff and to its consultants. Our performance should provide the catalyst for share price performance and shareholder value.
And "proof is in the pudding": We've made a discovery; we've found a Cu-Mo-Ag-Au porphyry system by applying best-practise principals; we've identified mineralisation over a 1.3km vertical distance; we've attracted the attention of majors and we've managed the process of discovery in difficult market conditions.