Top 20 *
40.62%
* updated 03/08/18, excludes any grouping of individual, joint and super fund holdings.
Inca Minerals Managing Director, Mr Ross Brown said "Since April 2016, when we first announced the acquisition of Riqueza, we have discovered over 100 new occurrences of Zn-Ag-Pb-(Au) mineralisation at Riqueza, including new structures, numerous veins, mantos and breccias. We are currently drilling these targets. At the same time, we are generating even more targets on a much larger scale, incorporating the new concessions now being granted to Inca that surround the original Riqueza Project area."
"…we are generating even more targets on a much larger scale."
Since early 2016, Riqueza has grown from a small project with a handful of known Zn-Ag-Pb occurrences into a very substantial multi-project property with innumerable Zn-Ag-Pb-Au-Cu occurrences. From two prospects, Humaspunco and Uchpanga, there are now six prospects, now including Pinta, Pampa Corral, Colina Roja and Alteration Ridge.
The Humaspunco-Pinta combined prospect area, with an approximate area of 2,500m x 800m, hosts the majority of the replacement-style Zn-Ag-Pb veins, breccias and mantos and is currently (July 2017) where the drilling is occurring. Drilling to date has successfully intersected the HV-series of mineralised veins and the manto sequence. The HV-veins have been projected to depths of 400m. Drilling is continuing at Humaspunco.
The Uchpanga Prospect, some 2.5km south of Humaspunco, hosts a number of small mine workings located along a 750m gossan containing Zn-Ag-Pb-Au epithermal-style mineralisation. A vein/dyke, which was the subject of past mining at the Rita Maria mine working (the largest at Uchpanga) was sampled by Inca and returned +3g/t Au and +1,000g/t Ag. Recent first pass drilling identified low grade stratiform mineralisation. Further drilling is planned for Uchpanga.
The four new prospects are elevating Riqueza to new heights, pushing expectations beyond high grade veins and mantos to something at a much different scale.
"The greater Riqueza project has morphed into a double-play" says Mr Brown. "The high-grade veins, breccias and mantos, which occur at Humaspunco, are very tangible, well within the purview of a junior explorer such as Inca. But something else is brewing here, something that has the potential to re-rate Riqueza significantly. We're beginning to peel back the layers of something that is attracting the likes of BHP to our borders. It's the discovery of epithermal gold and skarn copper."
"…peel back the layers of something that is attracting the likes of BHP to our borders."
Running parallel to drilling, we've discovered intrusive stocks, hitherto unknown at Riqueza, skarn Cu mineralisation and epithermal Au-Ag-Cu mineralisation. These are vital parts of a large mineralised intrusive-related system.
The Colina Roja and Alteration Ridge Prospects are located in Inca's new concessions. The latter hosts a 4km x 2km satellite anomaly believed to relate to pervasive epithermal mineralisation. At the foothills of Alteration Ridge sits Colina Roja. "This new prospect hosts gold, silver and copper, as well as high grade zinc and lead."
There are eight mines within 50km of Riqueza that are intrusive-replacement deposits. These define a prolific mineral-belt, within which the greater Riqueza prospect sits.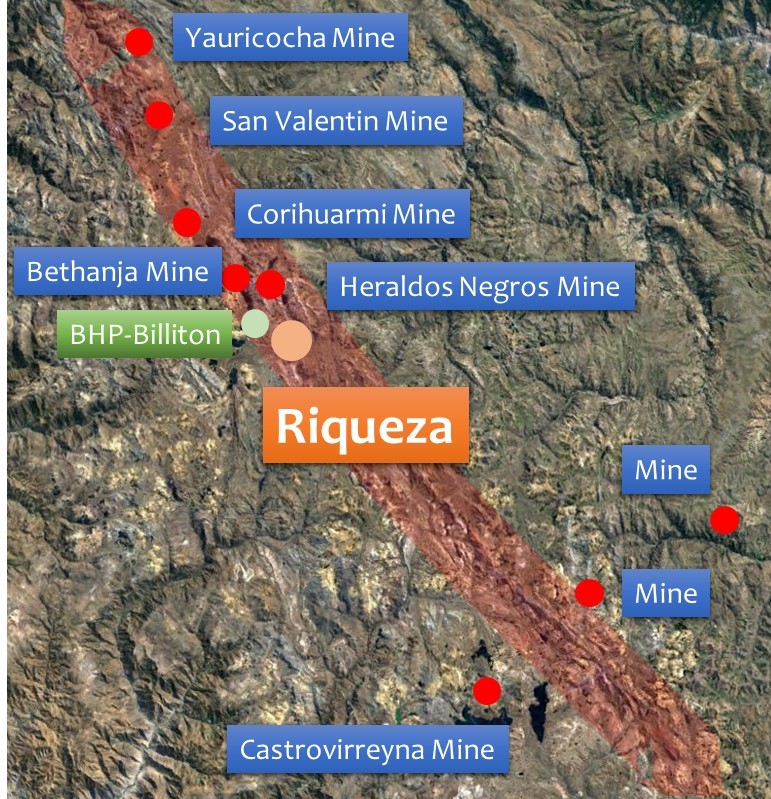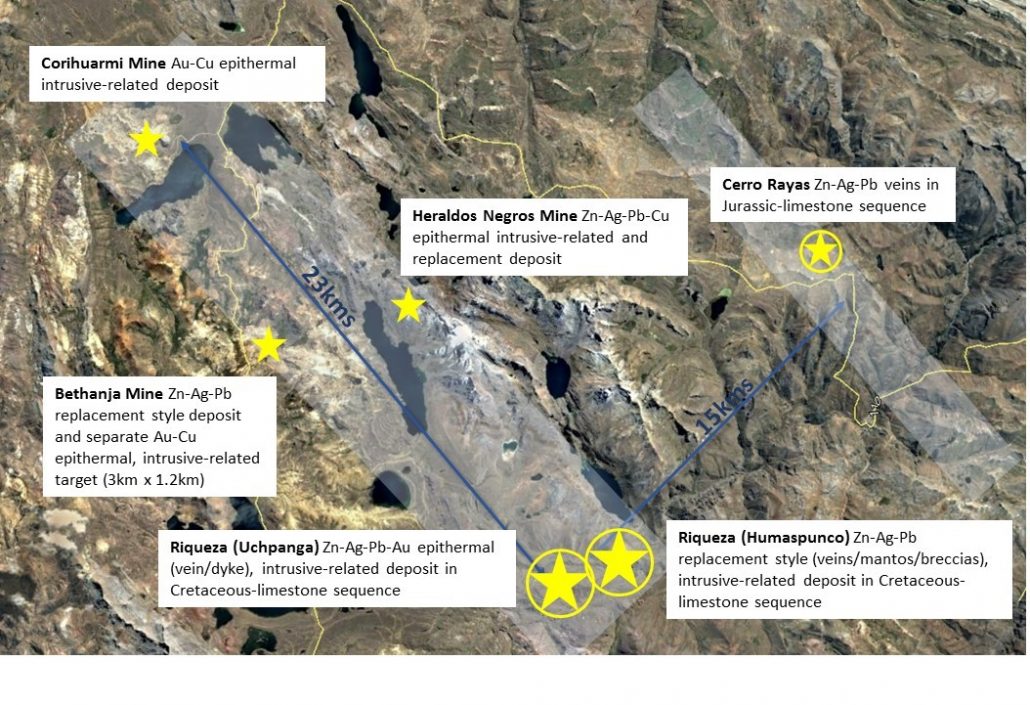 Inca's second Zn-focussed project Cerro Rayas is also looking good. Rock chip sample assay results show very strong Zn mineralisation associated two mine workings located within the project area, Vilcapuquio and Huari (the former pictured below). Peak values include 42.77% zinc (Zn); 258g/t silver (Ag); 26.1% lead (Pb).

Inca has recently consolidated its land holding at Cerro Rayas. By doing this the project now covers a third mine working, Torrepata, the largest of the three (pictured below). Peak Zn value from sampling here is 41.59 % Zn.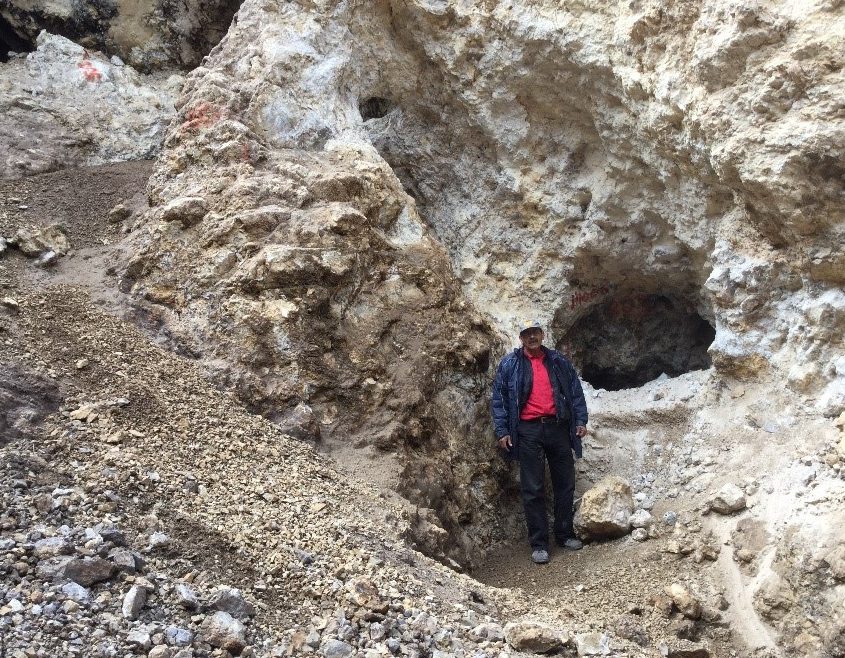 It is the intention of Inca to develop its Riqueza Project (and other Zn projects it has and may acquire) using best practice exploration methods with the "end-game" of defining an economic resource and commencing exploitation. With respect to Riqueza, we believe an Exploration Target (JORC 2012 Chapter 17-19) can be achieved with the current DIA drilling. We also believe a mineral resource (JORC 2012) can be achieved within a 2 to 5 year time frame.
The company continues to strive for exploration excellence and to maximise shareholder value through discovery and development. "We will not shirk from difficult decisions, nor take for granted shareholder support. We adhere to foundation best practise principles in exploration, social and environment management."
"We've had two +10-baggers since operating in Peru" says Mr Brown. "The first came about after DDH-001 at Chanape, drilling into a porphyry for the first time. The second came through sustained success at Riqueza as we discovered an ever increasing number of mineralised vein and mantos. Now, we are drilling these new targets"